When a couple shops for their wedding minister, some questions always seem to pop up; here are the ones I see most often.  (If you have a question that's not here, just send it to me, and I'll be glad to add it to this list!)
Are you legally able to perform weddings?
I'm ordained to perform weddings not only in Southern California (where I live), but most of the US as well.  (I say "most", because some parts of the country – Las Vegas and Atlantic City, to name a few – have special restrictions for out-of-state ministers.)
How experienced are you?
I've been performing weddings since 2005, and have married hundreds and hundreds of couples together, in all sorts of different venues, both indoors and out.
And, because each ceremony was custom-crafted just for that couple, I have years of experience with all different types of wedding styles, cultural traditions and personal touches.
I have a friend/relative who wants to perform the ceremony.  Why should I choose
you

over them?

I run into couples all the time who want someone already close to them to perform the ceremony.  My goal is to make sure your wedding is fun and memorable so, hey, if that's what you want, go for it.

BUT…
I've also heard "horror stories" from couples, where they tried to save a little money and brought a "newbie" in to perform their ceremony.  Without an experienced officiant, their ceremony became a 'comedy of errors', and the couple had no clue how to deal with the situation.
With years (and hundreds of ceremonies) of experience behind me, I've learned to gracefully handle all the little 'uncontrollables' that pop up during a wedding, and help you two stay focused on having fun, and stay focused on getting married.
As a friend of mine puts it: "Don't let someone learn their job – by working for you."  
How much do you charge?
Your investment in my wedding package depends on three things: The day of the week you're getting married, the month of the year, and the location you've chosen for your ceremony.
Let me know the details, and I'll be glad to send you a customized quote. (I've been told that, for the services I offer, I'm quite reasonably priced!)
Do you charge extra for additional services?
Not at all!  Other ministers might tack on additional charges for things like sand ceremonies, extra Scripture readings, attending the rehearsal, etc.  That's definitely not my style.
The way I see it: My job is to help you enjoy Your Wedding Day, and the best way to do that is to keep things simple.  When I quote you for my services, you have me, no matter how much of me you need!
What religious denomination are you?
Well, that's the one thing I never disclose to my couples.
The way I see it: My job is to craft and perform a custom wedding ceremony for you, a ceremony that fits the two of you like a glove.  I work with couples all the time who either: a) come from two different faiths, or b) don't want religion in their ceremonies at all.  So, I never let my personal faith interfere with yours.
We have children from previous marriages; can we involve them in the ceremony?
Of course!  You two are starting a new family, and it makes all the sense in the world to ensure that your existing family gets included as well!
How about our pets?
No problem!  I wish I had a nickel for every ceremony I've performed where dogs, cats, monkeys, parrots and [insert as-yet-unnamed animal here] have helped in the proceedings, as a Ring Bearer, attendant, or whatever.
Things like that, make a wedding fun!  
We're not sure yet what we want in our ceremony; can you help us think it through, and give us options?
Of course! That's one of my favorite parts of my ministry: helping couples craft a ceremony that's perfect for them.
After experiencing hundreds of wedding ceremonies, I can give you lots of options and alternatives, and help you two get married with a ceremony that fits you 'like a glove'!
We want to keep our ceremony short.  What's
required

in a wedding ceremony?

In many states, I'm required by law to sign your license after your ceremony. For me to do that, I have to be sure that you two got married of your own free will.
Therefore, the only part of the ceremony that's required is what's known as the Declaration of Intent, the part where I ask you something along the lines of, "Do you take him to be your husband?" or "Do you take her to be your wife?", and you answer something along the lines of "I do."
That's it!  Everything we do in addition to that small Q-and-A is the fun part of your ceremony, the part where you share your love for your partner with both them and your guests.
We want to involve [Catholic, Buddhist, Druid, etc.] elements into our ceremony.  Are you open to that, and do you charge extra for them?
I'm open to anything and everything that you two want to do in your wedding ceremony.  My wife and I got married decades ago, so we already had our ceremony; this one's yours.
Full Disclosure: I'm not ordained as a Catholic, so any ceremony I perform for you will likely not be recognized by the Catholic Church.
"Do I charge extra for religious elements"?  Not at all; when you bring me in as your minister, you have me for the whole "kit and caboodle", with no extra charges tacked on.
Will you perform a same-sex marriage, or one that involves trans-genders?
If your marriage will be legal in the state your ceremony is performed in then, of course, I'll be happy to help.
If you two love each other and want to spend the rest of your lives together – then I'm "in"!
Can you get our license for us?
That's one of the few things I can't do for you to help you get married; I'm not a Notary Public, nor an official that can sign your license application for you.
BUT, I can help you step through the process of obtaining your license; in most parts of the country, it's really quick and easy.
How does the 'money' part work? Do we need to put down a retainer?
When you decide to bring me in as your minister, the only thing I'll ask for is a 50% deposit before I send you the first draft of your wedding ceremony.
The balance of my fee is payable immediately following your ceremony.  To keep things simple, I often suggest to my couples that they bring a check (post-dated to their wedding day) to their rehearsal, and I'll take it off your hands then/there.  I never deposit that second check until after your wedding's been performed, and your completed license is on its way back to the County recorder's office.
You're a professional magician; will you do some magic at our wedding?
While magic is a fun element in a wedding (having you, or your Best Man, or your Maid of Honor magically produce the rings, or something like that), I'd much prefer not performing any magic myself.
Let me explain why: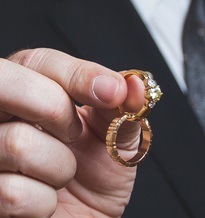 – As a magician, my job is to attract all the attention in the room.  (Magic only works when you're 100% focused on it, right?)
– As your minister, my job is the exact opposite: I want to be sure all eyes land on (and stay on) you and your spouse-to-be.
So, if it's OK with you, I'd much prefer keeping everyone focused on the two of you.  ('Staying invisible' during your wedding ceremony is my favorite trick of all!)
(PS: Thanks to Robert Zaleski for sharing this cool picture here.  And, yes, that's a trick I've been known to perform…!)  
---
If you have a question that's not here, just send it to me, and I'll be glad to add it to this list!