(One of my favorite ministry stories is in two parts.)
Chapter I – A Curious Gift.
When Nathan and Alea got married a few years back, one of their 'thank you' gifts to all their guests (including me) was a nifty little chrome-plated bottle opener, where the 'business end' of the tool was shaped like a heart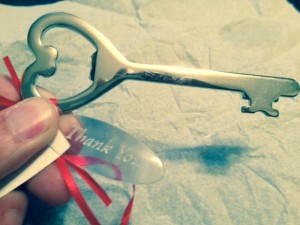 :
At the time, I remember thinking,
"This is beautiful, and I'm grateful, but – this is the Age of Twist-Offs; who the heck needs a bottle opener anymore?"
I put the opener in a display case in my office, with all the other little tsotchkes I've gotten from my couples over the years.  Over time, I kinda forgot about it…
Chapter II – A Blast from the Past.
A few years after that, Jeff and Camille were sitting down with me, to plan their upcoming wedding ceremony. As we chatted, Camille told me of a Valentine's Day gift she made for Jeff when they were first dating: a simple bottle of Orange Crush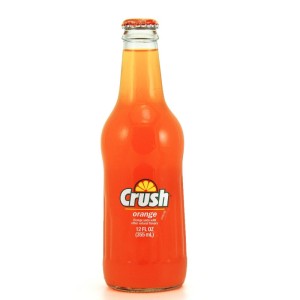 , where she decorated the top with a little flower made out of pipe cleaners.  Jeff told me he kept that, from the moment he received that gift, he kept the bottle on his desk at work, to constantly remind him of her.
I'm always thinking about making wedding ceremonies unforgettable, so I asked them if they wanted to open that bottle on their Wedding Day, and use it to toast their new marriage as I pronounced them Man and Wife.  "Oh, that'd be so cool!", they told me, "But, we're gonna need a bottle opener; it's an old-school bottle…"
I stopped for a second, as a vague memory bubbled to the surface…
And that's how I got my reputation for bring a minister whose sideline is 'Johnny On The Spot'!
PS, in case you're wondering: Yes, the Crush (just like any good marriage) still had some 'fizz' in it!