I always tell my couples, "every wedding has a story"; every wedding has that one perfect moment that you never forget. Here's one of them:
Allison and David got married a few years ago in the woods above Malibu, and their mothers added a perfect touch during the proceedings; midway through the ceremony, they released a whole flock of Monarch butterflies and, and they filled the sky above us – fantastic!
The part I remember most, though, happened just as the reception was getting underway; as Allison danced with her guests, one of those butterflies decided to crash the party, flying in to the room and landing right on her dress, just in time for us to snap the picture!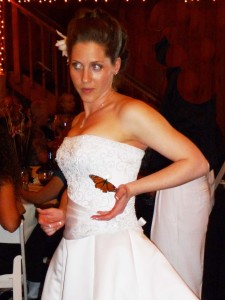 What's a perfect moment
you
remember from a wedding?