Out of all the hundreds of weddings I've performed, some stand out in my mind a LOT more than others.
Brandi and Josh got married a few years ago at a Temecula winery. The winery agreed to escort all of its daytime guests out by 6:00, so we could start the ceremony around 6:15, no problem. The weather was perfect for an evening wedding, and we started on time (yay!) with a string quartet playing perfectly as Brandi walked down the aisle…
Halfway through the ceremony, though, I heard giggles from the audience; a quick glance around, and I couldn't see anything amiss. I figured it was just some people having a private joke, so I ignored it. It happened again a few moments later, but the three of us were super-focused on the ceremony, so we kept on going.
At the end, as I was pronouncing them 'man and wife', we turned toward the guests, only to see that someone had crashed our party!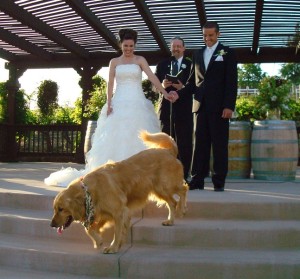 We found out afterward that, every night after the winery closed, its owner (who lived onsite) gave his dog free reign over the grounds for the rest of the day.  Once the ceremony started, the Golden Retriever heard the music, so he came down the hill to check out the situation.
Apparently, he spent a few moments sitting in front of the string quartet just staring at them (causing the giggles we heard earlier). But after a few minutes, he got bored, and so decided to walk away, down the aisle and off into the distance – at exactly the right time!
Lesson to be Learned?  If you want a wedding ceremony that will hold everyone's attention, you better have a Milk Bone in your pocket, too!